Guantanamera Cristales - 1's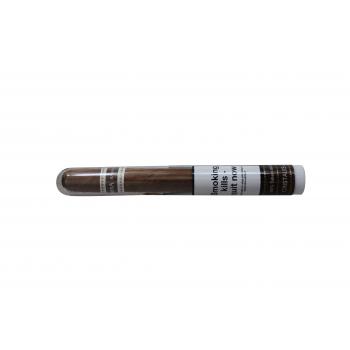 Date Added: Tuesday 09 September, 2014
by James
This is another Cigar I cannot understand poor reviews of. It is great longer smoke for novices like myself, as it is not as strong as some of the more expensive Cuban's. This means no head-rush :)
They say it's a lower quality tobacco and rubbished because it is not hand-made. For me, it gives a nice, cool smoke that is easy to draw. It is medium bodied and gives lots of smoke output. It also burns evenly (nice construction) and slowly. I tend to get around 60-70 mins from this (average, from the 4 or 5 I've smoked).
Taste-wise, I find that it gives a fruity, citrus taste for a good third, and is almost menthol like - very refreshing - in the middle.. The back-end remains cool, but does develop stronger tobacco tastes (quite peppery), but is not meaty.
It is by no means an unpleasant cigar. Just a good, well-priced, smoke. Good for relaxing in the garden, and goes well with a fruit juice or tea (I dare say also with a malt, but I'm yet to combine this).
Rating:

[4 of 5 Stars!]