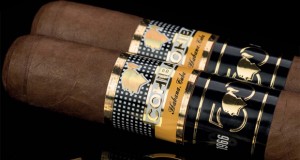 The exact origins of the Cohiba are somewhat obscured by a half century or so of cigar smoke, but this year has been chosen as its 50th anniversary.
However, my great discovery (or, rather, rediscovery) has been San Cristóbal, a much less widely known marque – a state of affairs I hope will remain that way, as slow-moving cigar boxes often have a good bit of age on them.
San Cristóbals are named after the fortresses of Havana, and I remember when they came out in 1999. I was quite taken for a number of years with the La Fuerza: a 50-ring-gauge cigar, 5.5in long – in other words, a slightly longer Robusto. It was delicious, but then, as cigars became ever more generously proportioned, I rather lost sight of it among the forest of sequoia-sized examples heading out of the factories of Havana.
It was thanks to Edward Sahakian, founder of Davidoff, that I reconnected with the pleasure these cigars used to give me. I came into his shop looking for a cigar called the Partagás Short – a favourite of the late Mark Birley – and left with a couple of San Cristóbal El Principes. They were delightful. 42 ring gauge by 4.5in, they are the sort of thing that can be enjoyed anytime from mid-morning onwards: great brunch or teatime cigars.
Looking once again at the San Cristóbal range, I discovered that there had been a notable addition to the range, housed in what can only be described as a highly idiosyncratic porcelain jar, with a lid bearing fortress-like crenellations that also serves as an ashtray. It is without doubt one of the most preposterous pieces of packaging I have ever seen, and I love it… but nothing like as much as the contents.
Launched in 2012 as a special edition, the San Cristóbal Torreon has a 54-ring gauge and is 6in in length. It looks a fairly fearsome thing; its imposing proportions and fortified packaging have scared people away.
Whoever put this cigar together clearly knew what they were doing. It begins with a dry flavour that recalls a sherry from Sanlúcar (at least as far as I remember that dry sherry tasting), and there is that roast coffee bean aroma (think of the first espresso of the day). However, this is not a cigar that will knock you out, as it is the flavour rather than the strength that develops. Early dried fruit flavours lead to a pleasing and lively spiciness, and the smoke is that perfect silvered blue.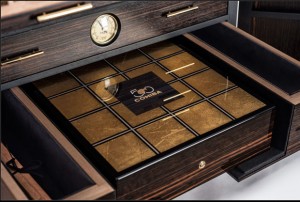 It is a good cigar with which to celebrate the 50th birthday of Cohiba: if it had the Cohiba band around it, you would be paying at least twice as much for it and it would have sold out long ago. Think of it as a Cohiba in disguise.
JANUARY 16 2016
NICK FOULKES