EMS stands for 'English Market Selection' and is a term that has been used in Cuba for over a century to identify the quality of cigars designated for the British market.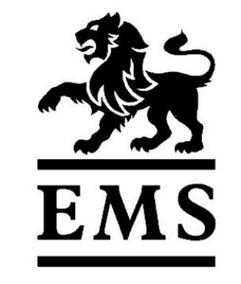 In 1993, H & F introduced the EMS Stamp and since then they have awarded it to all boxes and packs of Havanas that pass an additional UK inspection which is conducted once the cigars have reached their duty paid humidified warehouse. It serves as the traditional guarantee of quality and authenticity for Havanas sold in the UK. In 1997 the colour of the stamps started to change and have continued to do so annually. All packs of Havanas selected for sale by H&F in the UK domestic market bear the EMS stamp.
The EMS Guarantee
The EMS stamp guarantees that the cigars have been imported directly from Habanos SA in Cuba by its appointed UK distributor and that the boxes have been shipped and stored by experts.
The cigars have also passed an additional UK quality check (every box is opened and each cigar individually inspected) and all UK Duties have been paid and correct UK health warnings applied. Once we take delivery at the Simply Cigars warehouse every box of cigars is transferred to our humidor room and checked again before dispatching cigar order to our customers.
Look for the stamp on every box of Habanos sold in the UK:
H&F stamp for Havanas sold in Travel Retail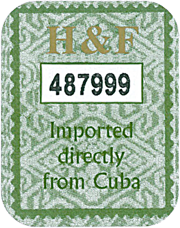 For boxes of Havana cigars sold unopened, H&F apply a different stamp: 'H&F – Imported Directly from Cuba' This guarantees that the packs have come through H & F. These stamps are applied to all packs of Havanas destined for Travel Retail and our Export markets (Republic of Ireland, Gibraltar and the Channel Islands).