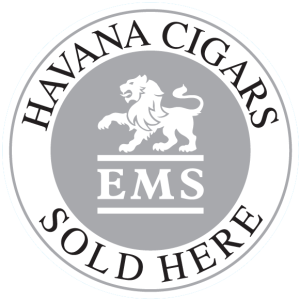 SEE OUR LATEST STOCK OF CIGARS AND ACCESSORIES.
It's said that every hand-rolled Cuban cigar goes through at least 222 different stages before it is ready to smoke. Each one is made by hand with meticulous care creating what are recognised as the finest cigars in the world. We invite you to try our cigars which are all handmade and carry the famous and trusted EMS mark certification.
All boxes are shipped with their original barcode on them which you can check on the Habanos Verification website by clicking here.
Habanos SA produces 27 premium brands which are available in an impressive 220 different sizes, offering endless possibilities for the cigar aficionado to explore. All tobacco leaves for Cuban cigars are fermented at least twice and aged for months or even years; and the longer they are aged, the more mellow and refined the taste of the cigar becomes. This is why sampling and choosing Cuban cigars is so fascinating, as there is always something new to discover.
At Simply Cigars we aim to bring you the most extensive selection of Cuban cigars. They are sourced by our experts, then rigorously checked by our own highly trained team to ensure the cigar's weight, ring gauge, length, colour, rolling quality and cap meet strict quality standards. Only then will we place it in one of our own walk-in humidors, ready to continue its journey to you.
Whichever brand you are partial to, each has its own distinctive flavours. Bolivar cigars are amongst the strongest, most full flavoured; Cohiba and Montecristo are medium to full flavoured, whilst Fonseco and Hoyo are inclined to offer some of the lightest flavours.
If you are in the earlier stages of the art of cigar appreciation, you may enjoy experimenting with our cigar small packs. They allow you to sample cigars from all the top brands in smaller pack sizes, so you don't need to make a major cost commitment if a particular brand is not to your taste.
We aim to provide a comprehensive range of vitolas across all our brands. From the mighty Grand Corona which is 9" long with a ring gauge (diameter) of 47" to the smaller Robustos (4" long and 50 gauge). It comes as no surprise that fatter, longer cigars have a slower and cooler burn; so, when selecting your cigar it is worth considering how long you will have to indulge – a Robustos will typically take 30–45 minutes to smoke whilst a Grand Corona can be savoured for a couple of hours.
These are but a few of the factors you will take into consideration when choosing a Cuban cigar. We hope a tour of these pages will be both informative and enticing. However, whether a seasoned collector or a budding novice, our knowledgeable team are always on hand to assist you, so please call +44 (0)20 7604 4335 or email us.
Simply Cigars London offers a complete range of quality EMS Cuban cigars, including cigars from leading brands like Cohiba, Montecristo, Romeo Y Julieta, Hoyo de Monterrey, Partagas and more.
Would you like advice on how to cut your cigar or the correct pronunciation of your favourite Cuban cigars visit our Cigar Guide?
Read about the global shortage of Cuban cigars and the new cigar pricing strategy recently announced by Habanos SA and global cigar manufacturers.